How we got started
In 1926, way back before Facebook, and even before TV, people just didn't know how to waste time. But, being really bored paid off for butcher Fred Angell. He worked to get just the right combination of a special cut and grind of meat and a selected blend of spices. When a deliveryman tasted Fred's new creation, he said, "This sandwich is made right." With that, the Maid-Rite was born. Fred was quite a sandwich maker but not much of a speller. Fast forward to today, Fred's loose meat sandwich is still just as popular and delicious as the day he created it!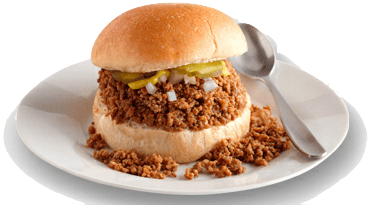 What is a loose meat sandwich?
Our select line of seasoned loose meat sandwiches are made from 100% USDA Midwestern fresh ground beef served on a fresh steamed white or wheat bun, with your choice of ketchup, mustard, onion and pickles. We strive to server the best-tasting loose meat sandwich possible. Come in to one of our Maid-Rite diners, you won't be let down!